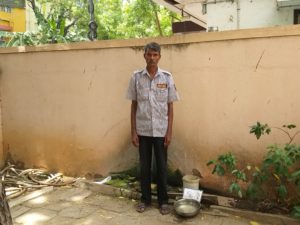 Thangaraj a  security personnel at  an apartment on Abiramapuram Fourth Street is very fond of animals.
Everyday, after he finishes his breakfast he washes his tiffin box, fills it with water and keeps it on top of the compound wall for birds to have a drink.
A bowl has been given by a good Samaritan down the street to be used to quench the thirst of stray dogs and cats. He fills this bowl diligently as soon as he reports for work. Whenever it gets empty he takes care to fill it with water again.
In the evening, before he leaves locks up the bowl for fear of it being stolen. "It is a small service  that  I do for these animals. It gives me  some happiness," he says.