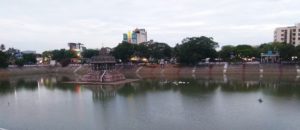 After the recent spell of rains, Sri Kapali Temple tank is filled with some water. However, one corner of this tank is still dry.
D. Kaveri, Executive Officer of Sri Kapali Temple says, "After the rains, the water level has raisen to about 1ft at the central portion of the tank."
A few weeks ago, technical officers from Central Water Commission visited the temple tank as a part of the Jal Shakti Abhiyan campaign and took stock of the RWH structures here.
Now, the temple workers have taken steps to tap maximum rain water. "We cleaned the bed of the tank and fixed the leaks near the steps. So when it rains, water from around 8 inlets which includes storm water drains from the surrounding streets enters the tank. Apart from this rainwater from two RWH structures located inside the temple also gets emptied into the tank, " she says.
However, Kaveri says a RWH structure at South Mada Street, opposite to Sangeeta Restaurant is non operational as there is a seepage of drinage water into the rain water. "We have requested the Corporation officials to fix it as soon as possible. But they are yet to solve the issue," she says.
If that is done more water can be stored, which will be beneficial for recharging the ground water, she adds.