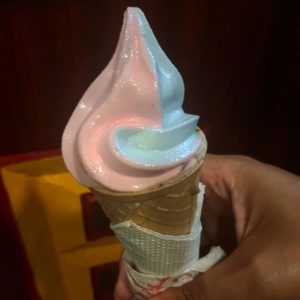 Every evening, after 6 p. m, a small crowd gathers at the Thunder Soda shop off Mari Street in Mandaveli to taste the combinations of soft-serve cone ice-creams sold here.
The shop has introduced these ice-creams a few weeks ago. Each ice cream is made up of two flavours like red velvet and vennila, black current and strawberry and so on.
G.Gangadhar, the owner of the shop says, "It was my wife Gowri's idea to have a combination of two ice-creams. We include flavours like black current, red velvet, blueberry, chocolate along with commonly available varieties like vennila and strawberry."
Vishal, a young boy who is a regular at their shop says," I like all their ice-creams. Also since they have two flavours, even if I don't like one say vannila or strawberry, I taste it for the other flavour (red velvet, black current) it has. "
All the ice-cream combinations are priced at Rs 20. A wide range of soda and milkshakes are also available here. At Mari Street, Mandaveli. Open from 9 a.m. to 11 p.m. on all days.