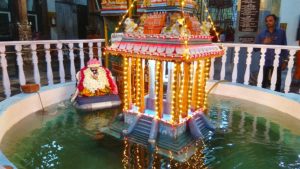 Following the Brahmotsavam and Vidaiyatri, now Vasantha utsavam is on at Sri Velleswarar temple, Mylapore. It started on July 6 and will be on till July 26.
On July 6, Sri Vinayagar was taken out in a procession around the Mada streets. Sri Velleswarar and Sri Murugar will be taken out in a procession on July 16 and 26 respectively.
Every day abhishekam will take place for the dieties in the morning. In the evening after alangaram, deeparadanai will be held at 7.30 p. m. Later, the deities will be taken around the mandapam in tank set up (inside the temple) for 9 times.
A small set-up of tank is made at this temple. On July 8, it was filled with water, a Shiva lingam was placed at the center of the tank inside the mandapam. The diety of Sri Velleswarar in Natarajar alangaram was placed above a float, present inside the tank. The whole set up was lit with bright lights. Devotees dropped coins inside the tank as offerings.
After 7 p.m., the diety did 9 rounds around the mandapam. Othuvar sang thevaram and other religious hymns during the rounds.