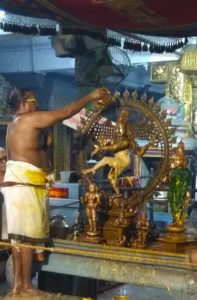 Aani thirumanjam (abhisekham) – one of the six important abhisekham that takes place for Sri Nataraja during a year took place at Sri Velleswarar Temple on July 8. It simultaneously happened at all Shiva temples on this day.
The priests of the temple performed thirumanjam with 21 different items, including milk, honey, curd, vibhuthi, jackfruit, pomegranate, grapes and more. Swarnabhishekam – abhisekham of jewels and coins offered by the devotees was also performed.
Later after deeparadanai and neivedyam the othuvar sang the religious hymns -thevaram, thiruvasagam, thiruvisaipa, thirupallandu and periyapuranam.
Many devotees gathered to get a darshan of Lord Nataraja during the abhisekham. Fruits used for abhisekham was given as prasadam to the devotees.