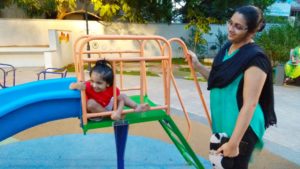 Due to the efforts of volunteers, the Infinity Park, behind the Registration Office off San Thome High Road is well maintained and children seem to be enjoying their time here.
The park, that opened a few months ago is an inclusive play space that was designed for providing a number of facilities and playthings for children with disabilities. Though the park is open to all, the facilities are designed mainly for special children.
Now, a group of five volunteers take care of the park to ensure that it is not abused or vandalised.
Sheila D' Souza, a resident of East Circular Road is a volunteer. She says, "I come on Tuesdays, Thursdays and on the weekend. We check the maintenance of the park and see to it that the special children are comfortable playing here."
Many special children play here regularly.
"This evening a special child did skateboarding, and he seemed to enjoy his activity very much," Sheila says. Seniors also use this space for walking. And some school kids are seen doing group studies here.
The volunteers say they are constantly in touch with Kavitha Krishnamoorthy, managing trustee of the NGO Kilikili and others who were involved in the formation of this space."We inform them if there is any problem here," Sheila says.
This project was the idea of Bangalore-based NGO Kilkili and Luz-based  architecture firm City Works, and Chennai Corporation undertook this project under its Smart City initiative. Now, Appaswamy Real Estate is taking care of the maintenance of the park.
The park is open from 5 p. m. to 8 p. m. at 4th Trust Link Street, San Thome.