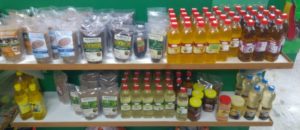 Recently, Diya organic and natural, an organic supermarket that sells 'certified' organic products opened at Venkatesa Agraharam Road near Saibaba Temple, Mylapore.
V. Geeta who was with the franchise of B Naturo, has opened her own organic store here.
Now, Apart from having wide varieties of rice, millets and oil, the shop has organic snacks and homemade baskets and pouches made by women entrepreneurs.
"After deciding to start my own store, I conducted a survey among my 350 plus regular customers and found that many of them wanted organic snacks and hence included it," says Geeta.
The shop has also tied up with Mumbai Kulfi. "It offers different varieties of Kulfi with original flavors of mango, chocolate, nuts, coffee and more," she says.
Now the shop is providing monthly milk supply of A2 certified milk. Subscription cost is Rs 3000 for a month.
Best-selling item at this shop is organic rice varieties – raw, steamed and idly rice.
The price of the rice varieties start from Rs 70. They also provide free door delivery in and around 5 kilometer radius of Mylapore.
At 1, Alamelumangapuram, Venkatesa Agraharam Road, Mylapore. Open from 9. 30 a. m. to 9 p. m. Contact: 6382001767.