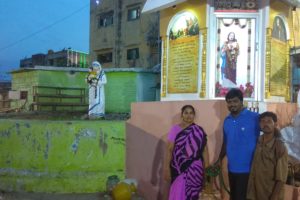 Around 20 youngsters belonging to Dooming Kuppam have transformed a garbage dump yard to a place of worship. For years, the boys say since their open well of 300 sq ft (area) got dried up completely, people used to throw mounds of garbage into it.
"Garbage was almost filled in the entire depth of the well. It was very difficult for us to live here due to the stench. Also, worms started feeding in the waste and we could not breathe," says Sagaya Mary, who takes care of the place along with residents Clemant and Maria Antonita.
To discourage people from throwing their garbage – the group has also placed a statue of Mother Theresa in the middle of this area located at Dooming Street and adjacent to that they have also constructed a small shrine. "Now, regular prayers take place here," says Sagaya Mary.
"Years ago when we took this step, it really looked impossible for us to clean. But it happened due to the motivation we gave to each other. We took a few weeks to clear the garbage and fill the space with mud," says Poul, a member of this group.