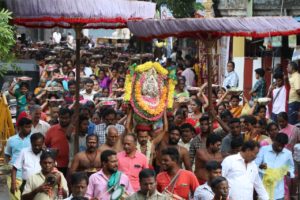 Scores of women and dozens of men took part in Sunday's Aadi celebration at Sri Mungadakanni Amman Temple in Mylapore this evening.
Formally, 1008 women carried small stainless steel vessels filled with fresh flowers in the procession and then symbolically offered it to the goddess before taking the flowers and prasadam home.
It was a well-planned religious ritual. So it ran well and smoothly. And on the last Sunday of the Aadi season, over 20% of the participants were from outside the area – friends and relatives of Mylaporeans.