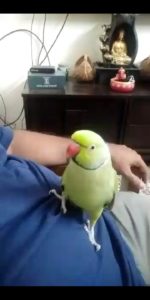 A pet parrot which goes by the name of Meenu has gone missing from its owner's residence in Luz Avenue since last week.
It's owner is doing all he can to get the word around, including adverts and posters besides social media appeals.
He says this pet parrot can say Chellamma, Pattamma and Meenu and so will respond to these words if located by people in the area.
You may call 98840 29299 if you have leads to share.