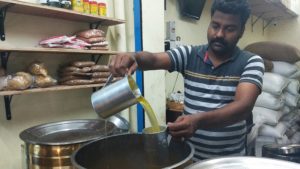 Recently, Amutham wood pressed oil store has opened its fifth branch in Mathala Narayanan Street, Mylapore.
A few years ago three brothers hailing from Chidambaram – Janakiraman, Sivashankar, and Satishkumar started this store at R.K.Mutt Road, Mandaveli near Brown Tree departmental store.
The store sells groundnut, sesame and coconut oil prepared from their own vaagai mara chekku located at their shop. Customers can also bring the raw material (coconut, groundnut or sesame) for oil preparation. "15 kilos of the raw material will yield 6 kilos of oil. We charge Rs 40 for a liter of oil when the raw material is given," says Sivashankar.
Sivashankar says that their customer base steadily grew after they first started their shop at R.K.Mutt Road. "Now, in Mylapore alone, we have over 600 customers. We have opened this store, especially to cater to their needs of customers in this area," he says.
In addition, the shop owners also discourage plastic usage for storing oil. "Either the customers have to bring their own containers, or we will provide oil in steel tins at a cost. However, when customers bring plastic containers we provide the oil in the same," he says.
"Earlier, I used to stock 6 kilos of sesame oil for two months. Now as the shop has come here, I will be able to buy fresh oil whenever I want," said Devaki from Mylapore, a regular customer of this store.
Their other branches are at Chrompet, Chitalapakkam, and Thiruvanmiyur. The shop also sells ghee, nattu sakkarai, honey, and himalayan salt. Groundnut and palm jaggery that is used for oil preparation is also available here. A liter of groundnut, coconut and sesame oil are priced at Rs 240, Rs 300 and Rs 340 respectively.
At 36, Mathala Narayanan Street, Mylapore. Opposite to Annapoorani sweets shop. Ph: 9842033815.
The lead for this story was given by community activist Baskar Seshadri