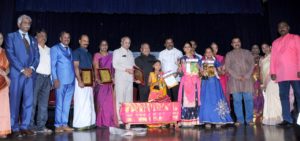 At the 33rd Arivukkalanjiyam awards ceremony held at Bharatiya Vidya Bhavan, Mylapore recently, awards were given to veterans in different fields as well as children.
M. Chokkalingam, former judge, High Court, Chennai, Dr. R. Gandhi, senior advocate, High Court, Chennai, S. Duraisamy, chairman, Manitha Neyam Trust, Dr. Kannan Pugazhendhi, sports physician, Spectrum and Prof. R. Abhiramasundari, head of the music department at Queen Mary's College received awards for their contribution.
The guests included T. N. Vallinayagam, judge, Lok Adalat, High Court, Chennai, K. N. Ramaswamy, director, Bharatiya Vidya Bhavan and Sampathkumar, Chennai District Coordinator, Nehru Yuva Kendra, Government of India.
Arivukkalanjiyam prizes and appreciation mementoes were given to 150 schools.