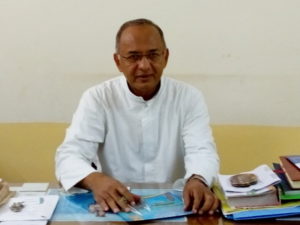 Rev Fr. Y. F. Bosco recently took charge as the new parish priest of Our Lady of Guidance Church, popularly known as Lazarus Church in R. A. Puram.
Born to Y. Francis and Irudhaya Mary, he hails from Pannur in Tiruvallur district of Tamil Nadu. His brother is also a priest and is with the Salesian Order, currently based in Dubai and one sister is a nun in a convent at Vijayawada.
He was ordained a priest on in 1985. He was given the title of 'Goodwill Ambassador' conferred on him by the government of Israel since he has taken more than 1000 people on pilgrimage to the Holy Land.