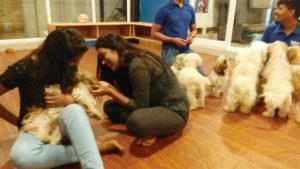 Twisty Tails, the Chennai's first dogs-themed cafe has recently shifted to Ananda Road in Alwarpet from Nungambakkam. Now, people who have dogs as pets or love animals can dine here and also share some love for animals.
The cafe has two sections – Puppy Love, where people can play with the 16 puppies of various breeds that the restaurant has.
There is a 70-seater Resto Cafe spread across 1200 sq ft for diners – but pets are not allowed here.
The breeds in Puppy Love include Havanese, Tibetian Spaniel, Bichon Frise, and Shih Tzu, all known for their extremely friendly and loving nature.
The Resto Cafe offers Indian, Continental and Asian food. People can also opt to feed the furry four-legged animals with biscuit packets sold here.
"This concept works well for dog lovers who are unable to keep pet dogs at their homes due to restrictions in apartment complexes or monetary reasons," says G. Vikram, one of the partners of Twisty Tails.
The restaurant was first started in Nungambakkam in 2017. "It was my partner Rekha's dream project to create a space for people to de-stress themselves through pet love," he says.
The owners have also introduced a new section called Twisty Treats, which sells waffles, pancakes, and milkshakes. "We plan to have a section that will sell dog-themed pens, pouches, bags, and water bottles," says Vikram.
Dining for two costs about Rs 800. The Puppy Love treats are priced at Rs 50. At 1, Ananda Road, Alwarpet. Open from 12 p.m. to 11.30 p.m. Ph: 9092258887. Note: Pets from outside are not allowed at the cafe.