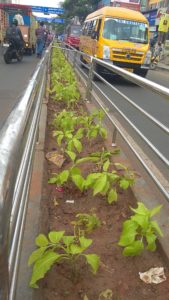 Recently, ward 124 of Chennai Corporation has sown plant saplings at the road medians in Mylapore. Now, the medians at R.K.Mutt Road, Luz Church Road, and R.K. Salai sport a lush green look.
S. Vivekanandan, AE of ward 124 says, "Plants like Physconia(generic name), that do not have the threat of being eaten away by cows and other animals have been planted here." He says since the leaves of the plants taste bad, the animals would not prefer to eat them.
However, plastic and food waste are seen on the medians. Vivekanandan says, it is not possible to control the waste unless public cooperate to keep the medians clean.
"To water the plants our workers use secondary/tertiary treated water from zone 9," he says.