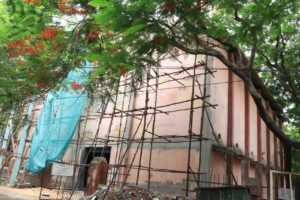 The Chennai Corporation ward 173's indoor Badminton stadium at Karpagam Avenue, R.A.Puram is under renovation after many months now.
The residents say the stadium could not be used for the past two years as it remained locked following the collapse of the ceiling. Now, wooden barricades have been put around this building and repair works are on since a few days.
Veera Raghavan, the AE of ward 173 says, "The stadium which spans approximately 800 sq m is being renovated by a private agency who has taken it up as a contract."
Chennai Corporation has put up a board outside the gate of the building saying the stadium is undergoing repair work and that it will be opened soon.