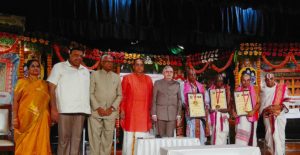 On August 22 evening, LIFCO publication held 'Sri Ramanuja Seva Sri' award ceremony at R.R. Sabha, Sundareswarar Street, Mylapore.
This award was instituted a few years ago to recognize and honour the services of people who have been spreading the virtues, principles, and philosophy of the Saint Ramanuja through seminars, upanyasams, literary works, publications, social awareness and restoration of temple works, said a press release from the LIFCO group.
P. Sathasivam, Governor of Kerala was the chief guest for the programme. G.Rajagopalan, Additional Solicitor General of India, and P.N.Prakash, Justice, Madras High Court were also present.
This year, the award was given to U.Ve. Gomadam Sampathkumarachariar, U.Ve. Krishnamachariar, U.Ve. Dr. Karunakarachariar.
A book on the saint Ramanuja was also released during the event.