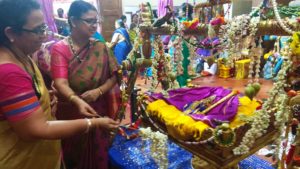 This year, Nandalala Cultural Centre at Ranga Road, Mylapore is celebrating Krishna Jayanti Mahotsavam with the theme of 'Water and Krishna'.
All the festivities held here intends to highlight the importance of conserving water through various stories that depict Sri Krishna and water.
"Having seen the water crisis in the neighbourhood very closely, we thought it is the need of the hour to highlight the importance of saving every drop of water," says Krithika Mouli, a member of the Nandalala Cultural Centre.
"On Aug 22, water expert Prof. Madhusudanan Kalaichelvan, a historian and expert in temple architecture brought out a multitude of aspects tying into the theme. And going by the theme, we have decorated our center with small umbrellas," she says.
The trust has also come up with a small exhibition depicting the paintings made by children on this theme (show in picture: bottom right) 
Among the exhibits, they have showcased a model of Sri Athi Varadar deity in the ananthasaras temple tank. "Through this, we intend to stress the importance of traditional water saving methods," says Krithika.
On Aug 23 evening, during the cradling ceremony, the members of the trust symbolically named Sri Krishna as 'Meghashyaman' – seeking him to bring more rain. Later, the devotees gently swung the cradle of Sri Krishna and sang devotional songs for him. (shown in picture: top left) Some devotees also sang songs urging Lord Krishna to bring rains soon.
Tomorrow (Aug 24), vishnu sahasranamam archanai, kuselar vaibhavam, uriyadi utsavam and oyyali are set to take place. The festivities will start from 7 a.m. The theme based exhibition will be open for the public till tomorrow evening. At Ranga Road, Mylapore.