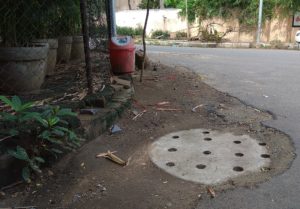 Since a few weeks, the officials of local wards of Chennai Corporation are working with residents to identify and sink recharge wells at locations in their streets where rainwater is stagnating. (picture shows a recharge well at a junction of two streets in Venus Colony, Alwarpet).
At some places, the residents have themselves identified the locations and informed the same to the Corporation officials.
Vidya, a resident of Venus Colony, Alwarpet says, "We have identified two locations at First Street and the Second Street of our colony. And the corporation officials have checked and agreed to sink recharge wells here."
Guhan, AE of ward 119 says, "We are identifying the locations where rainwater is stagnant due to the absence of stormwater drains. Now, with the help of residents, we have identified two locations at CIT colony First Main Road and Second Main Road. Soon we will be sinking wells there."
At both these places, this process is set to be carried out with the funding from the residents of that area.