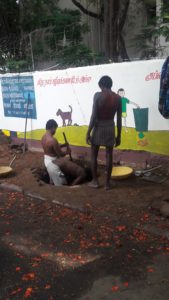 Rain water harvesting structure was sunk on the pavement of the Ramarao Road in Mylapore last weekend so as to tao the floodwater that accumulates here when it rains hard and steady.
This work was carried out usind funds allocated to Mylapore MLA, R. Nataraj.
Private workers excavated the earth close to the compound wall of the Indian Bank Staff Quarters , for a depth of 15feet and lowered cement rings to create a chamber and topped it with other works, to let rainwater percolate when it rains.
Report, photo by Baskar Seshadri