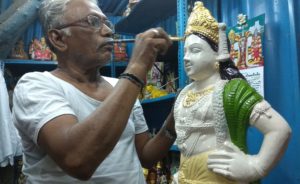 As Sri Krishna Jayanti is just around the corner on August 24, S.Paramasivan, the well-known doll painter of Mylapore repaints a Krishna doll at his shop in Chitrakulam with much care and attention.
With over 13 years of experience in the field of repainting, especially the old golu dolls, the 71-year-old Paramasivan says, it requires immense patience and hard work to recreate the dolls.
"Sometimes it takes more than 10 days to repaint even a small portion of the doll. And I will be satisfied with the painting only when the eye of the doll comes out perfectly," he says.
People who wish to repaint their Krishna dolls can give it to him now. "I require at least 10 days to paint. So it will be better if they give their dolls early," he says.
His shop, Jayamaruti Manual is at 52, Chitrakulam West Street, Mylapore. Ph: 9841945161,7010727239.