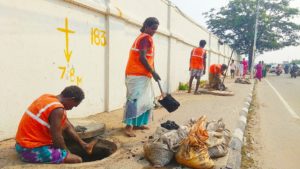 To avoid flooding during the rains, de-silting of stormwater drains is going on at a steady pace at many parts of Mylapore.
Since the past few days, the Chennai Corporation's contract workers are desilting drains at Thiru-Vi-Ka bridge, Dr. Ranga Road, East Abhiramapuram First Street besides other parts.
The muck removed is collected and stored in bags. Once the water drains off from it, workers say it will be taken away in garbage collection vans.
Said a worker, "We are asked to finish the de-silting work before the north-east monsoon sets in."