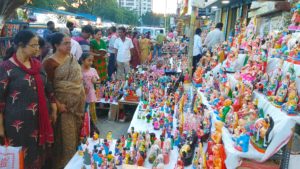 The kolu dolls bazaar of Mylapore is now choc-a-bloc with shoppers who are keen to grab a deal and go home with a set of dolls they want now.
Scores of shoppers fill the jam-packed North Mada Street to do their last-minute Navarathri shopping.
Hawkers have added more stocks of the dolls at the 50-plus stalls on North and a part of East Mada Street.
Dolls from Kanchipuram, Panruti, Cuddalore, Vellore, Pondicherry, and Kosapet are on sale. Some have arrived from Kolkata and other North Indian states.
Apart from the regular Dasavatharam, and Kalyanam set dolls of the lord Athi Vardar, Nava Narasimhar (nine forms of Narasimhar similar to idols at Andhra Pradesh's Ahobilam), Muperumdevigal (a doll that depicts the three goddesses – Saraswathi, Lakshmi, and Parvathi in one form) and those of terracotta materials are in demand.


All of them are available at most of the shops; But dolls of Athi Varadar have sold out. Hawkers say fresh pieces will arrive in the coming days.
Jayaraj' s shop in front of Radha Gold Jewellers in North Mada Street is different. This hawker, who says his family has been in this business for 40 years, has a number of new dolls.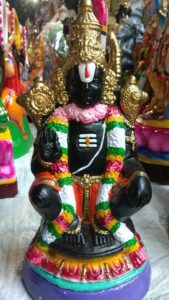 "Papier-mache dolls of lord Hariharan, Badrachala Raman, Dwaraka Krishna, and Vinayakar Vathiyam (a set of Vinayaka dolls playing different musical instruments) are new," points out Shrimati a shopper from K.K.Nagar.
The Nava Narasimhar set is priced at Rs 2200 and that of Muperumdevigal is priced at Rs 1800 at his shop. (Rates of these dolls vary at different stalls).