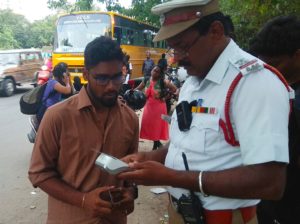 Since the past few days, the traffic police have intensified checking of traffic violations at various points in Mylapore.
On September 9, they imposed fines on motorists commuting through the junction of Greenways Road and R.K.Mutt Road, Venkata Krishna Road, South Mada Street, besides other streets in the neighbourhood.
Till now, the police have been charging Rs 100 each for helmetless drivers and pillion riders.
However, they say with the Central Motor Vehicles (Amendment) Act, 2019, coming to effect in a few days in Tamil Nadu, traffic violations such as driving without helmets/seatbelts, drunken driving, violation of traffic rules, non-renewal of license and others would attract hefty fines.
After its implementation, fine for helmetless driving would be increased from Rs 100 to Rs 1000, along with the suspension of driving license for three months and disobeying the orders of the traffic police will attract a fine of Rs. 2000.
This evening, as the Abhiramapuram traffic police imposed fines at Venkata Krishna Road, Mandaveli they also warned the motorists about the increased fine amount that would be imposed post the enactment of the revised fines.