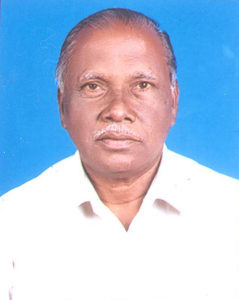 M.Nagarajan, a retired Assistant Head Master (AHM) of Raja Muthiah Higher Secondary School, R.A.Puram has recently been appointed as a Secretary for three schools in the neighbourhood; of which two are in R.A.Puram.
It includes Rajah Muthiah Higher Secondary School, R.A.Puram, Rani Lady Meyyammai Girls' Higher Secondary School, Adyar, and Kumararajah Muthiah Middle School, R.A.Puram.
Hailing from Papanasam in Tirunelveli district of Tamil Nadu, the 71-year-old has completed M.A.Tamizh from Madras University, Chennai and B.Ed from Annamalai University, Chidambaram.
Prior to serving as AHM for 10 years, Nagarajan worked as Tamizh Teacher at Raja Muthiah Higher Secondary School for over 25 years.
"He was known for his high morale, good administration, perfection in his work and for the continuous encouragement he gave to all the students, teachers, colleagues to achieve better results. He also received Best NSS (National Service Scheme) Master award from the T.N. Government while he was in service,"  says S. Thirugnanam, Headmaster of Raja Muthiah School, who had worked with him for a few years to train the NSS students.
After his retirement in 2006, Nagarajan says he worked at the trust office at Rani Seethai wedding Hall near Anna flyover Bridge, Chennai.
"Making children disciplined, maintaining the campus clean, providing quality education, especially to those from the underprivileged sections and creating a suitable learning environment will be my focus as I take charge as Secretary, " says Nagarajan, who resides near Saibaba Temple in Mylapore.