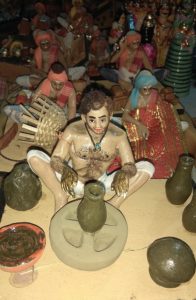 The golu dolls bazaar at Mylapore's North Mada Street is abuzz.
Shoppers from across the city are here to buy dolls that fit into their Navaratri kolu theme they have planned this year.
On Sept.16 evening, Revathi from Poonamalle bought terracotta bullock carts and horse-drawn vehicles at a hawker's shop outside Gayathri Jewelers. "I am planning a village themed golu," she said.
Elsewhere, near Angamuthu's jewellery store, the variety of dolls was big – of lord Athi Varadar made of papier mache, and those of weavers, artisans, earthern pot makers, teracotta Ganesha dolls (shown in photos here), vegetable vendors – made of Bengal clay – were in demand.
Seeta, a shopper from T. Nagar said she plans to display the dolls made of a different material or the ones that have a distinctive look.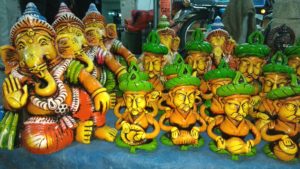 The Athi Varadar dolls of 1ft height are priced at Rs.1600 (rate is bargainable). Hawkers say more sizes of Athi Varadar dolls would arrive at the market soon. The dolls of artisans are priced from Rs 250 onwards, according to the size.
But not all shoppers are buying. While some are not happy with the workmanship of today's images others say prices are stiff and some dolls, overrated.
But North Mada Street is now known for its kolu dolls market which brings people from far and near. Bargaining though helps in some cases.