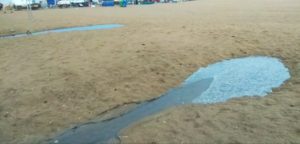 To avoid water stagnation on the service road off Marina Beach, Chennai Corporation has dug recharge pits in the sandy area adjoining it.
A few weeks ago, when it rained heavily, water gushed through a hole and got collected here (shown in picture). And slowly it got absorbed into the ground.
Inspite of these pits, the service road (low-lying part) continues to flood whenever it rains.
Says Murugesan, a civic official attached to zone 9,"We have dug a few recharge pits to reduce water stagnation. In this area, there is no possibility of constructing recharge wells as ground water is present at 3 or 4 ft depth itself."
So at present, if there is excessive water stagnation, he says they will clear it with the help of a motor. "We are planning to dig a few more pits to reduce water logging. We are also working to get an efficient solution for harvesting the flood water," he says.