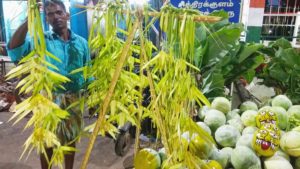 This evening, hawkers at South Mada Street were bustling. As Ayudha pooja falls on Oct 7, hawkers have started setting up thoranams, pumpkins, puffed rice, fruits, nattu sakkarai and other stuff that people buy for the pujas.
Decorations were also on at many private and government offices in Mylapore.
"As we have a holiday on Monday, we are celebrating the puja at our office today," said a woman who was buying pooja items at the market here.
Hawker Subramani (shown in picture) has put his shop off Gandhi Statue near Chitrakulam. A pumpkin is priced at Rs 150 and a set of thoranams with four pieces is priced at Rs 30 at his shop.