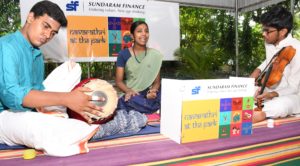 On day two of the Navarathri series of mikeless kutcheris at Nageswara Rao Park, organised by
Sundaram Finance, 14 year old Vibha Krishnakumar, disciple of Geetha Raja performed in the open, in the CHess Square zone.
He was accompanied by C. Akhilesh on the violin and by A. Rohit on the mridangam. Vibha presented songs
that included Muthuswamy Dikshithar's Maha Ganapathim (Nattai/Eka), Hiranmayim
(Lalitha/Rupakam), Thyagarajar's Amma Ravamma (Kalyani/ K. Chapu) and Bharathiyar's Vellai
Thamarai (Bhimplas/Adi).
Later, S. Sivakumar, VP, Sundaram Finance presented certificates and mementos to the artistes.
Mikes and speakers are not used at the Kutcheri in the Park series.