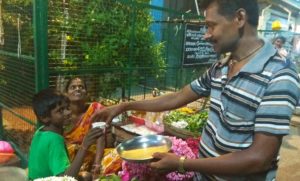 Ravindran (shown in picture), serves tea and coffee to hawkers, and homeless people around a few temples in Mylapore.
Even though his tea and coffee are priced at Rs 10, he doesn't mind if people pay him only Rs 2 or less.
A native of Palakkad in Kerala, Ravindran says he came and settled at Mundagakanni Amman Kovil Street many years ago. "From then on, I have been selling tea and coffee here." he says.
After preparing the beverages at his home, he makes a few rounds around Sri Kapali temple and Mundagakanni Amman Temple and sells them on his bicycle.
He says, "I want to serve these people, and at the same time I also want to earn some money. So I accept whatever money, they are able to pay."
Hawkers, seasonal vendors and security guards of shops and of Sri Kapali Temple fondly call him Deva.
Says Nagaraj, a security guard at Sri Kapali Temple, "As a cup of tea or coffee is priced at around Rs 20 in nearby shops, Deva's tea comes as a huge relief for us as it is affordable," he says.