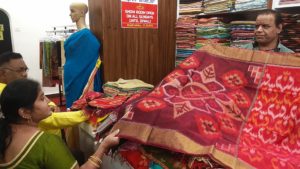 With just a fortnight for Deepavali, Rangachari Cloth Store at Luz Church Road is abuzz. Shoppers from across the city are flocking here to grab sarees for the festive occasion.
The new arrivals at this store include Nilan sarees that are made with cotton mixed with synthetic and other materials. Says Saravanan, a supervisor at the store, "A variety of fancy sarees and Tussar silk sarees are also selling fast."
From a range of Sungudi cotton sarees to silk sarees, including soft silk and Kancheepuram silk are available for sale.
This evening, as the women shoppers hand-picked sarees for themselves some also bought for their friends residing at foreign countries.
The price of Sungudi cotton sarees starts from Rs.300. The shop is located at 55, Luz Church Road, Mylapore. Timings: 9.30 a.m. to 8.30 p.m. Open on all days. To help the office-goers, the shop will also be open on the Sunday before Deepavali. Ph: 24994343.