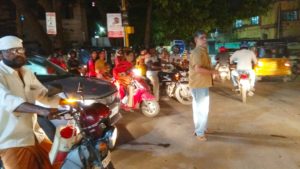 Traffic jams were common at Mylapore's busy junctions on Thursday as people leaving the city for other destinations scooted to travel out.
It took over 45 minutes for motorists to cross the stretch from R. K . Mutt Road to Thiru-Vi-Ka bridge over the Adyar river.
Said Kali Muthu, Abhiramapuram traffic police, "Since many people are travelling to their hometown today for the Deepavali holidays, the thick traffic is moving slowly since 6 p.m."
Several omni buses that take people from Chennai to other cities were seen on this stretch adding to the congestion.
While traffic police regulated the traffic at most places, near the traffic signal at Mandaveli, a group of auto drivers regulated the motorists.