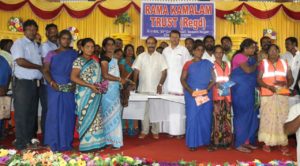 Mylapore MLA R. Nataraj on Friday got up a small event in his office premises to award gifts to conservancy workers of Alwarpet zone on the occasion of Deepavali. ( seen in photo)
The gifting was supported by two Trusts, one of which the MLA manages.
In a similar manner, a NGO called Bhoomika Trust with its office on P. S. Sivaswamy Salai, Mylapore also arranged for gifts to be given to all the conservancy workers in ward 119.
Dhotis, saris and sweetmeats were given personally to each worker, and the goodies sent to those who could not be present.