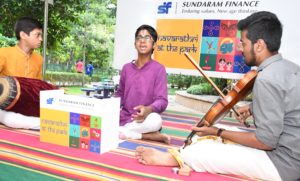 The music of the ongoing Navaratri festival floated around gently in the verdant spaces of Nageswara Rao Park in Luz this Friday morning. A concert, 'mike less' was on in the Chess Square zone.
13-year-old Arvind Balaji launched the three-day Navarathri special Kutcheri in the Park organised by Sundaram Finance; this is an annual feature for the season.
Arvind was accompanied on the violin by Mugundan Samraj and on the mridangam by Sai Srivats R. Kamath.
P. Viswanathan, company secretary, Sundaram Finance presented certificates and mementos to the artistes.
The concert series continues on the weekend, starting at 7 a.m. and on for an hour.