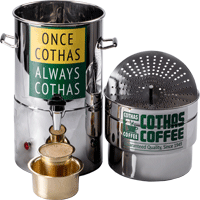 Bengaluru based Cothas Coffee has recently opened its new outlet at Chitrakulam West Street, opposite to Surya Sweets in Mylapore. Known for its unique filter coffee powder, this brand originally started in the year 1949.
Its filter coffee, that is served in a cornstarch container is priced at Rs. 12. Says T. John, a staff at the shop, "Soon we will introduce cold coffee, milkshakes and traditionally made cookies and snacks too."
The shop also sells its coffee powder in various combinations of coffee and chicory. Traditional brass and silver coffee filters and percolator filters are also available for sale.
100 grams of its speciality blend coffee powder that has 85 % coffee and 15% chicory is priced at Rs.48.
However, some people feel that the store lacks an instant coffee grinding facility. Writes Bhaskar Seshadri, a Mylaporean in his facebook post, "There is no facility of instant grinding which many old-timers look for."
At 1, Chitrakulam West Street, Mylapore. Timings: 7 a.m. to 8.30 p.m. Ph: 9513596248.
Photo: Cothas coffee