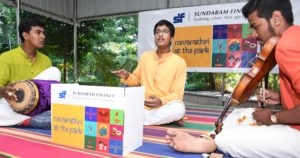 On the concluding day of the three day Navarathri Kutcheri at the Park series organised by Sundaram Finance, 14 year old K. Ramcharan presented a one-hour mikeless kutcheri this Sunday morning at Nageswara Rao Park.
Ramcharan, disciple of Geetha Raja and Sriram Parasuram was accompanied on the violin by Mugundan Samraj and on the mridangam by A. Rohith.
Ramcharan presented compositions that included Thyagarajar's Girirajasuta (Bangla/Deshadhi) Muthuswamy
Dikshithar's Marakathavallim (Kambhoji/Adi), Papanasam Sivan's Sivakama Sundari (Mukhari/Adi) and
Harikesanallu Muthiah Bhagavathar's Raja Raja Rajithe (Niroshta/Adi).
G. Sundararajan, CFO, Sundaram Home Finance presented certificates and mementos to the artistes.
This is the 11th year of the Navarathri Kutcheri at the Park. Sundaram Finance has also been
organising monthly Kutcheri in the Park on the first Sunday of every month since February 2007
and during the four days of the Sundaram Finance Mylapore Festival. No mikes and speakers are
used. Over 1300 children have presented concerts at the Kutcheri in the Park.
Sundaram Finance conducts audition to select the artistes aged below 15years for the monthly Kutcheri in
the Park. For audition enquiries, email: sundaykutcheri@sundaramfinance.in