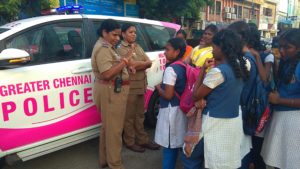 The operations of Amma Patrol is now a regular feature in Mylapore.
A few weeks ago, chief minister Edappadi K Palaniswami launched this project to ensure crimes against women and children are addressed quickly.
The special police wing – Crime against Women and Children (CWC) – monitors its operation under the leadership of Deputy Commissioner of Police, Special Wing for Women and Children, H. Jayalakshmi whose office is in Kutchery Road.
A special team has been created to patrol the neighbourhood. Two women personnel – Inspector Kamala Devi and Sub Inspector A.V. Sophia from Mylapore All Women Police Station are in charge.
On Oct 4., this team started its rounds at around 5 p.m. As a constable drove out of the campus of the Mylapore E1 police station on Kutchery Road, school students were on their way back home. At one point, the police spotted three schoolgirls talking to a bike-borne boy. They stopped the vehicle to check if the boy was known to the girls and the latter were safe.
Later, the patrol went down the busy East Mada Street. There, the two women police spoke to girls and women on the role of the patrol vehicle.
Pointing to the helpline numbers 1098 (child helpline) and 1091 (women's helpline) displayed on the Tata Innova car, they urged them to use these numbers if they needed help.
The police say they make these rounds at least thrice a day. "In the morning and afternoon, we cover schools and Dr. MGR Janaki College of Arts and Science for Women. And at 5.30 p.m., we patrol Marina beach and the bus stops especially those at San Thome High Road and Pattinampakkam as many women and children usually use these stops," says sub-inspector Sophia.
The pink patrol vehicle is equipped with sirens, revolving lights, and GPS to improve communication and visibility. "GPS tracking devices and cameras are installed in its front and rear sides, and these send continuous visuals to the police control room. They, in turn, monitor the visuals," says Sophia.
At present, the police say calls to helpline numbers are limited. "Meanwhile, women and child-related cases made at Police Emergency Service Number – 100 – are diverted to us from the control room," says inspector Kamala Devi.
So far, the police say they have rescued three abandoned women near Vivekananda College and one elderly person in the Mylapore area. "They have been sent to Karunai Illam in Avadi. The rescued girl children, who are abandoned or homeless are sent to Don Bosco Anbu Illam near Central Railway Station. In addition, we have conducted many awareness programs at schools on POCSO laws and women and child-related issues," Sophia says.
After driving through R. K. Mutt Road, Mandaveli and San Thome High Road that evening, the patrol wound up for the day.
To seek help from this team, women and children may also contact inspector Kamala Devi at 9498143296 or SI sub-inspector Sophia at 9498142547.