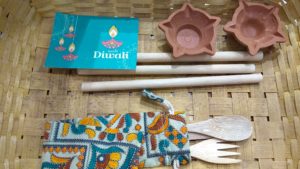 This Deepavali, Ecoindian, the organic zero-waste store off Dr.Ranga Road is offering an eco-friendly gifting option.
Priced at Rs 280, the gift pack (shown in picture) includes clay diyas, bamboo straws, wooden spoons, knife and a paper infused with marigold flower's seed.
Says a staff at the store, "Once the seed paper is planted in soil it will sprout into a sapling."
The items can also be bought separately at the store.
The store is located at 19, Dr. Ranga Road, Mylapore. Ph: 8124001177.