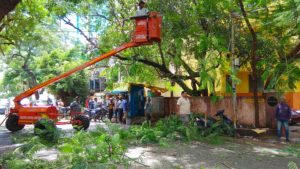 Following the onset of monsoon, local teams of Chennai Corporation have started taking  measures to avoid any untoward incident during heavy rains.
Over the past few days, civic workers are seen pruning the branches of public trees that could break and fall during a heavy shower.
Using a special tree maintenance machine, pruning work was undertaken at Karpagam Avenue Main Road, C. P. Ramaswamy Road, Dr. Ranga Road, R. K. Nagar Fourth Cross Street besides other places.
The workers have also started filling the potholes with wet mix and stones. Potholes at various streets, including Dr. Ranga Road, Abhiramapuram First Street and Greenways Road were filled.
Arul Maran, the AE of ward 123 said, "To fasten the process we have called for  a tender for this work. Soon this work will cover most roads."
"We are taking all possible measures to avoid any mishap during the rain. We are also clearing the complaints we receive via the Public Grievance and Redressal System as soon as possible," he said.
While the desilting of stormwater drains is going on at a steady pace, conservancy workers are clearing the garbage bins at regular intervals.
Said Venkatesh, a RamKy conservancy worker on Kamarajar Salai, "This is the third round of garbage collection since today morning. We are clearing it more often to prevent the muck from blocking the roadside slits that lead the water to RWH structures or stormwater drains."
People can call Chennai Corporation's Public Grievance and Redressal System at 1913.