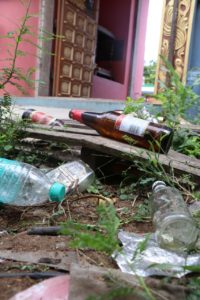 For a long time now, the lane leading to the main gopuram of Sri Virupakseeswarar Temple in Mylapore ( it also has entry from the Bazaar Road side) is being used by tipplers to have a drink.
They gather here late at night, some under window sills of the few residential blocks here and enjoy their drinks.
Dozens of beer and liquor bottles are found dumped in all corners of the street, less used by temple-goers.
Residents say they have made a few complaints but say they refrained from a formal one because they feared retribution.
Meanwhile, all those empty liquor bottles pile up yards away from the main door of the temple.