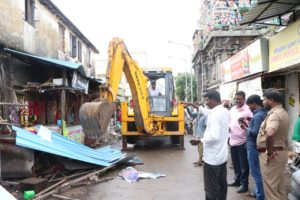 The hawker stalls that sold flowers and garlands and puja articles along one side of Ponnambala Vadyar Street in Sri Kapali Temple zone were cleared by Chennai Corporation workers this Thursday morning ( Nov.28).
While JCB equipment was used to bring down the stalls which were built on to the walls of buildings on this street, workers helped to clear the street side of the resultant debris.
All these stalls, obviously unauthorised have been here for years and cater to the huge stream of people visiting Sri Kapali Temple.