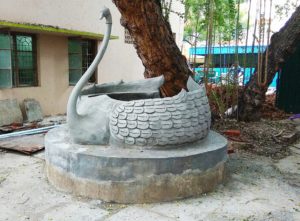 Chennai Corporation's team of ward 119 unit has revived an unused well at its office premises at C.I.T Colony, Mylapore.
In addition, it is also being converted as a rainwater harvesting facility.
Says Guhan, engineer of this ward, "We are laying pipes to let the rainwater collected from our office campus and rooftop into the well."
The 27 feet deep well has been de-silted recently. By this month-end, Guhan says it will be converted into a recharge well. The water will be used to water plants and local needs.
The well is to be painted with ornamental design. The team plans to make it look like an annaparavai (swan) with colourful 3D painting.
"This is being carried out to spread awareness on rainwater harvesting and to discourage the public from abandoning old wells that have long gone dry."
The well is located in the backyard of this office so the decorated utility may not get everybody's attention. Guhan says that he and his staff will show the utility to people who visit the office.