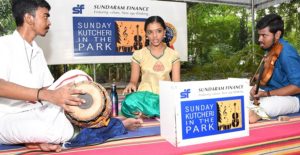 As part of the 'Kutcheri in the park' event organised by Sundaram Finance every month, 13 year old Niveditha Doraiswamy presented a mikeless kutcheri at Nageswara Rao Park, Luz on Nov 3 morning.
She was accompanied by Mukundan Samraj on the violin and Abhinav Kailasam on the mridangam.
S. Dhandayuthapani, GM-Operations, Sundaram Finance presented the certificates and mementoes to the artistes. More than 1300 children have been a part of this series since it was launched in Feb. 2006. For details contact S. Prabhu at 9444040748.