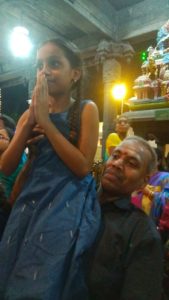 On Nov. 12 evening, hundreds of devotees gathered at Sri Kapaleeshwarar Temple, Mylapore to witness the annual Anna Abhishekam ceremony.
Every year, on the occasion of Aippasi pournami, the moolavar murthi of Sri Kapaleeshwarar is decorated with Annam (cooked rice)
Devotees stood on steps, and on raised platforms to get a glimpse of the deity adorned with Annam.
Some parents also placed their children on their shoulder so the latter could get a clear darshan.
Said E.Venkatasubramaniam, the chief priest of the temple, "Since Annam is the most important thing that sustains all life forms, this ceremony is a way of showing our gratitude to Lord Shiva, who protects all the five elements of nature that support its production."
Considered very auspicious, the ceremony was on till late evening. And the devotees were allowed for darshan till around 9.30 p.m.