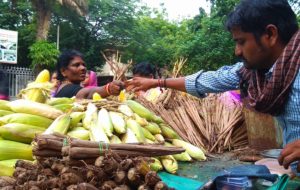 With the arrival of monsoon, corn and and palmyra sprouts (panam kilangu) are selling fast in Mylapore.
Many hawkers in the neighbourhood have now stocked them in bundles across their carts.
This hawker at Venkatesa Agraharam Street near Sri Sai Baba temple also sells masala corn – boiled corn flavoured with a tangy and spicy masala.
On one recent evening, his shop was abuzz.
Shoppers said they preferred them as it is good for health and can be had on the go.
The boiled corn is priced at Rs 20 at his shop.