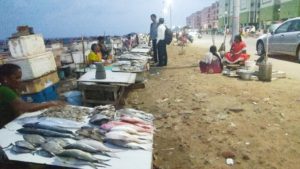 To reduce traffic congestion and to maintain cleanliness along Marina's Loop Road, Chennai Corporation has asked the fishermen to shift their shops away from the road.
Fish hawkers who had their stalls along the road have shifted them a few meters inside.
Those who had their stalls alongside the apartments have been asked to shift to the pavement side.
A few months ago, the Madras High Court issued directions to Chennai Corporation and city police commissioner to regulate the informal market along Loop Road.
Chennai Corporation' s Assistant Executive Engineer (AEE), who supervises this area says, "This is being carried out mainly to avoid traffic congestion and maintain cleanliness on this road."

"Earlier, as the fishermen had the shops on the road, customers who came to buy the fish parked their vehicles on the road. This caused traffic congestion," the official said.
But the hawkers, mostly women do not want to shift too far in; they fear clients will shop at stallsclosest to their path.
A local area police officer said that they were having discussions with the fishermen to arrive at a suitable solution.