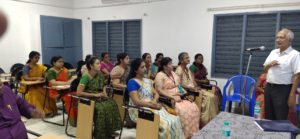 There is a new facility at the P. S. School campus. The P S Learning Centre.
This educational and life-skills space for children with some learning disabilities was inaugurated at the school on Oct.31
D. Chandrasekhar, founder and president of Madras Dyslexia Association, Chennai was the chief guest.
Two school teachers – R. Subhashini and Arokiya Arul Nithya – have undergone a six weeks intensive training programme at Madras Dyslexia Association and will assist students with learning difficulties in primary classes, says school principal Revathy Parameswaran.