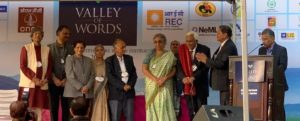 At the valedictory of the 3rd edition of the three day literary fest 'Valley of Words', held at Dehradun on Nov. 17, Prabha Sridevan, retired judge, Madras High Court, won an award under the category 'Translation from regional language into English' for her book 'Echoes of the Veena'.
Prabha who retired in 2010 has been actively translating books since 2012.
Her first book, 'Seeing in the Dark', a translation of late writer Choodamani's short stories, was published by Oxford University Press in 2015.
Her second book 'Echoes in the Veena' which was a translation of 18 stories written by the same author, was published by Ratna Sagar P. Ltd in July 2018.
She has also translated the short stories of Seeta Ravi, Vaasanthi and Kavitha Swarnavalli. Stories from her translated works have been turned into plays by Madras Players. Her third book which is a translation of Thoppil Mohammed Meeran's short stories will come out next year.
Prabha is a resident of Mylapore.
The book 'Echoes of the veena' is available at www.amazon.com and is priced at Rs. 332. For copies you can also contact the publisher at 42208000. E-mail the author at officeatatreya@gmail.com.