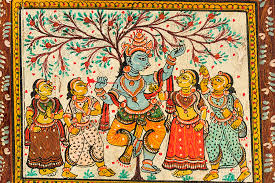 Artisans of Raghurajpur, Odisha are masters of Pattachitra art, a classical painting form that serves the Jagannath Temple of Puri. Some of these are to camp at Wandering Artist space in R. A. Puram to present Utkala Varna on Nov.16 and 17, 10 am to 5.30 p.m.
 Utkala Varna is presented by Sahagamana and Wandering Artist and visitors can interact with the artists, witness the grandeur and aesthetics of the art works and also learn the basics of the art form ( you need to register for the two workshops).
Says Prathik Sudha Murali, the curator, "Every rupee you spend, be it a Rs.50 bookmark or a Rs.5000 canvas, helps the artisans in restoring their village to its original glory after the Puri cyclone."
You can learn a few strokes of the art form at the workshops for Rs.1750/- including all materials such as natural canvas and colours.
To register for the workshop on Nov.16 – https://www.townscript.com/e/utkala-varna-the-colours-of-odisha-342232
To register for the workshop on Nov.17 – https://www.townscript.com/e/utkala-varna-the-colours-of-odisha-171119