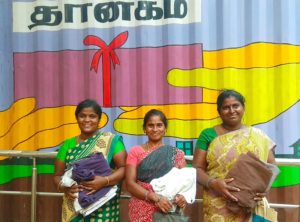 Parimala is happy her children will get a set of clothes to keep warm this monsoon. For several months, this fish vendor says she has not been able to buy clothes for her children as her earnings are limited.
Parimala is a resident of Medavakkam. And she says she regularly sells fish in the Mylapore area.
On Nov.6, she along with her sisters received some clothes from Dhanagam, the donation box inside the campus of Mylapore MLA office in Alwarpet.
Said Parimala, "I have got two shirts and a pair of socks for my children. I'm happy they will get some warmth this monsoon from these garments," she said.
A few months ago, Mylapore MLA R. Nataraj, launched this project with the aim of getting people to donate old and reusable items like clothes, shoes and books to the needy.
Now, Kasi, the office staff at MLA office who monitors Dhanagam says that it has received a good response from the public. "People from across Chennai are donating items, including silk sarees, churidars, shirts, pants and more. And we are also constantly informing about this facility to people from lower-income groups," he says.
People who wish to donate can do so from 10 a.m. to 5 p.m. on all weekdays. At Mylapore MLA office, C.P. Ramaswamy Road, Alwarpet. For further details contact the MLA office at 24663411 or the office staff Kasi at 9940502933.